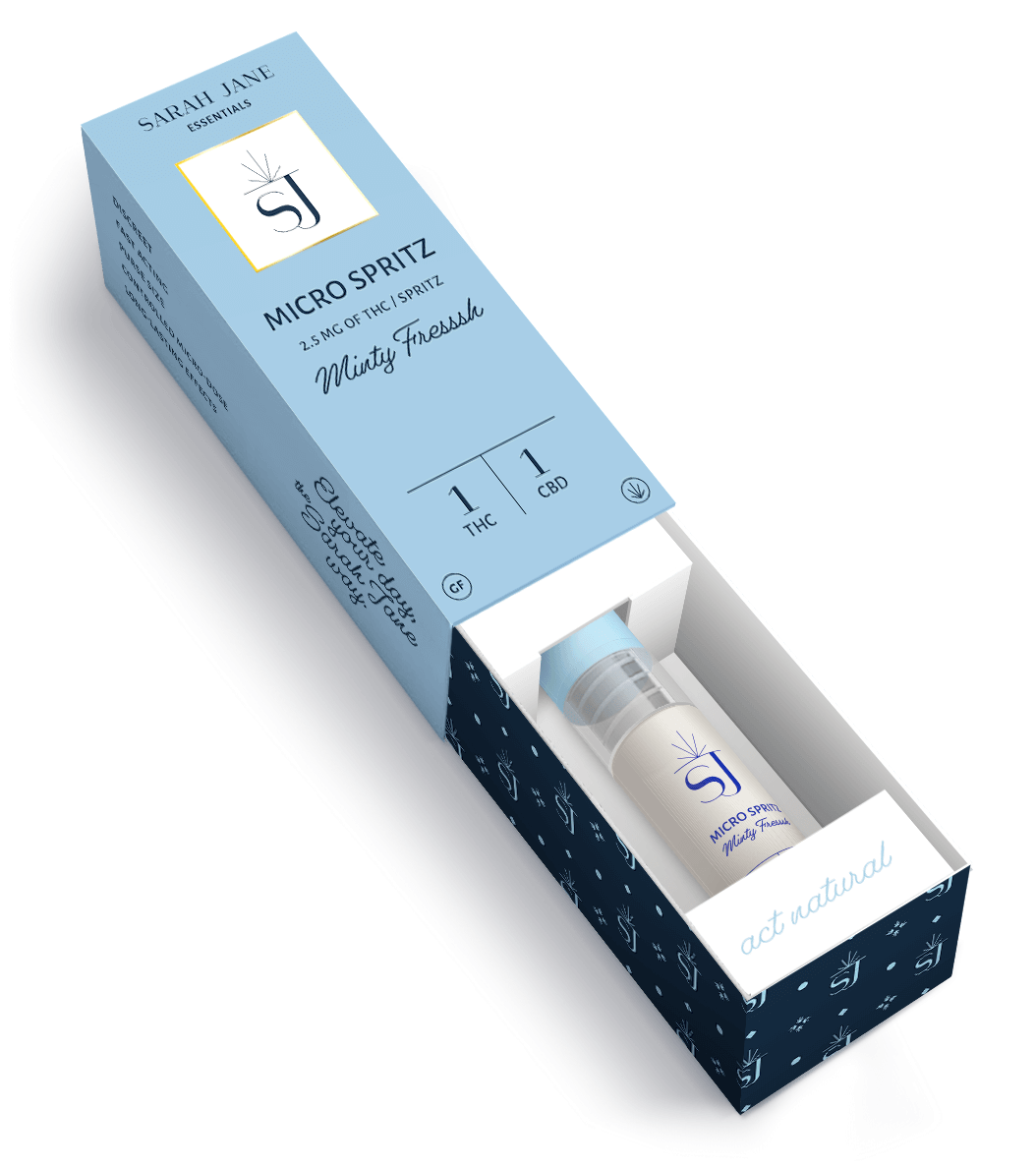 Micro Spritz
Perfect for your purse, our chic and discreet Microdose Spritz absorbs in two steps:
then through the
digestive system.
This makes it both fast-acting and long-lasting. You can expect to feel a mild effect within 30 minutes and last for 2-3 hours, depending on how fast your body metabolizes the cannabinoids.
HOW
A single spritz under the tongue takes the mental or physical edge off and shifts your focus to present and productive.
WHAT
Precise microdose of 2.5mg (1:1 THC/CBD) spritz for controlled and mindful moments
EFFECT
Fast-Acting/Long-Lasting. Feel mild effect within 15 minutes; Peak 1-2 hours; Taper after 3-4 hours.
Micro Bites
Say goodbye to dividing and portioning out edibles in hopes of finding the perfect dose.
Sarah Jane Micro Bites are conveniently created in a 5mg dosage with 20 gummies per package, perfect for sharing with friends and timing your plans perfectly. Slips easily into a bag or pocket, can be transferred into a chic pouch or clutch. These bites are water soluble so you can count on the consistency of the absorption and will feel the effect within 15 minutes on an empty stomach.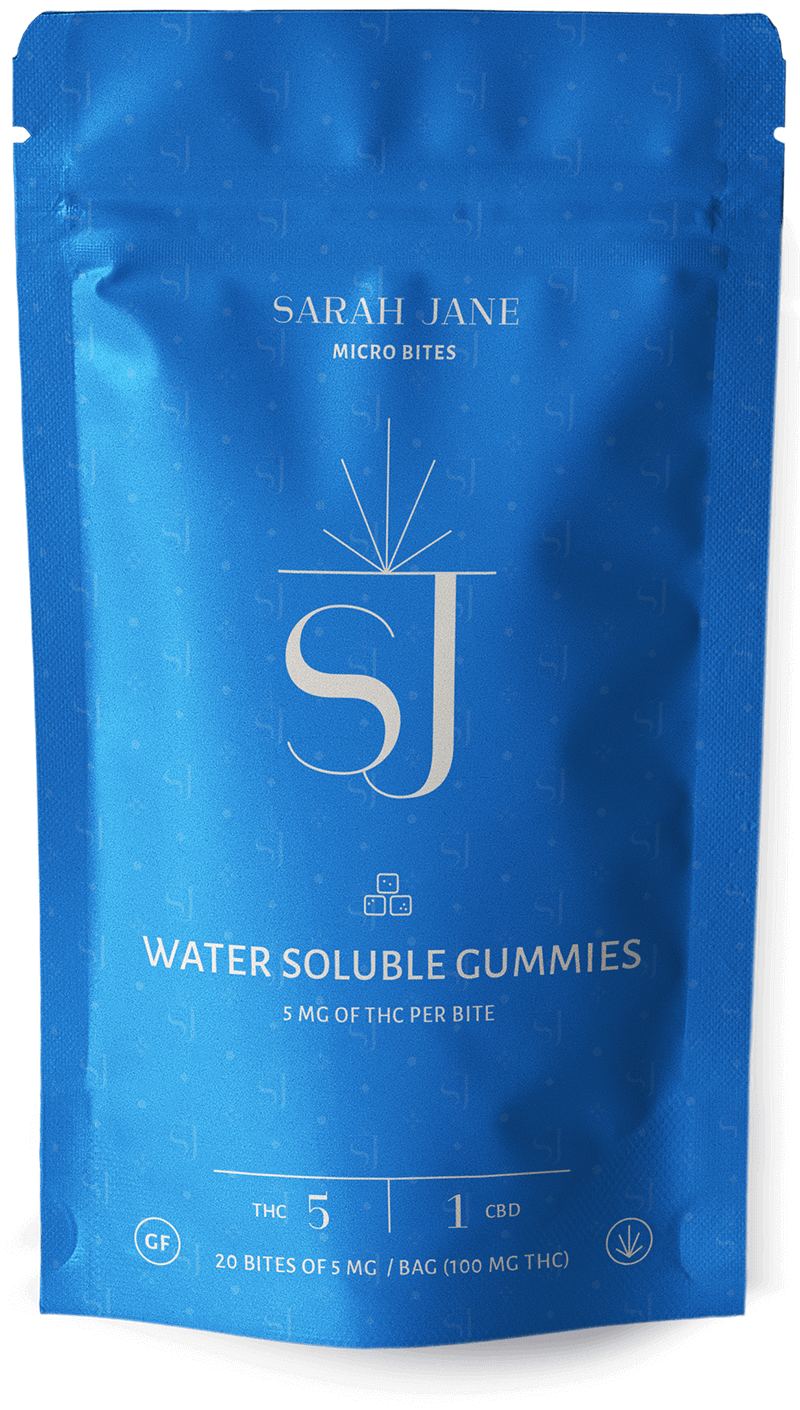 HOW
Eat one (or two, we don't judge) and breathe deep, enjoy the flavor and share with friends. Take the stress away and replace it with some chill.
WHAT
Precise microdose of 5mg THC for relaxation and extra happy.
EFFECT
Feel mild effects within 20 minutes, peak 1-2 hours, tapers after 4-5 hours.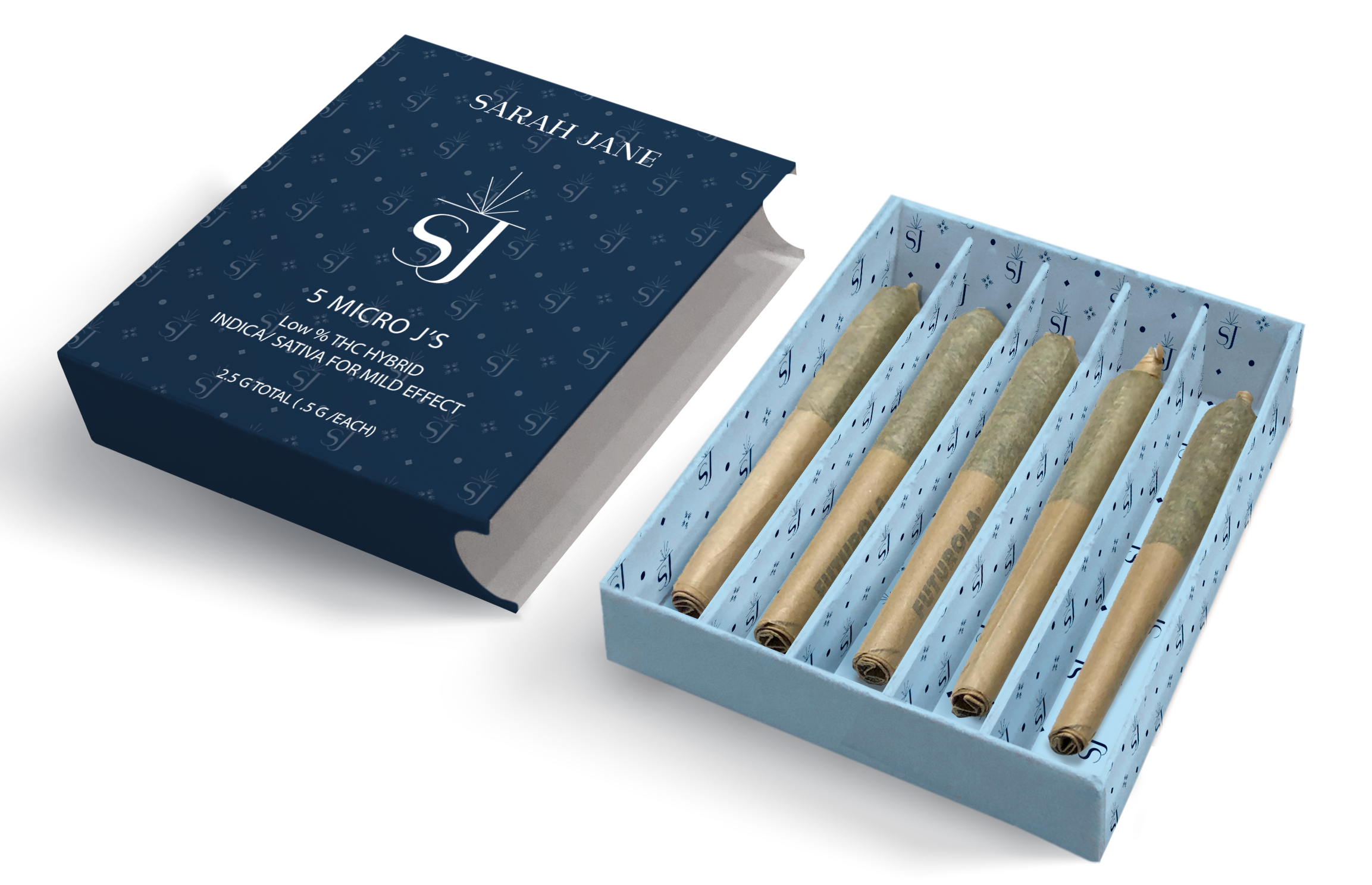 Micro J's
Puff, pass, and take a pause in a fast acting, yet sophisticated way.
When you need a minute and actually can find one, our Micro J's are the right choice.  A lower THC strain in these joints means a mild and euphoric high that both allows for productive conversation and some giggles along the way. Be sure to keep the box with you, it's easy to share with the convenient size.
HOW
Step outside and light the pinched end of the joint.  Inhale.  Exhale.  Share.  Repeat.
WHAT
Five perfectly proportioned miniature joints that fit discreetly in any clutch or pouch. Ideal for those times when you just need a hot minute!
EFFECT
A smooth, balanced and overall enjoyable mini break. Effects usually take less than half an hour to fully experience. After that, the high will start to slowly wear off, winding down over the course of the next one or two hours.
Why
We're on a mission to destigmatize the use of cannabis within women by offering honest conversations, dialogue, and education about the positive effects of the plant.

Find The
Janes
Find us at these PC's serving Recreational
/Adult use purchases (no medical card needed)